No one can doubt the advantages that smartphones have.  For parents, you now have a dependable babysitter with your smart device.  While some people may frown upon this, ask that overworked mum who needs one hour to complete a certain household chore why she depends on the smartphone to keep the little ones occupied.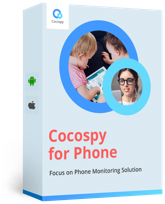 By downloading toddler-friendly content, or accessing sites with child-friendly videos, she can comfortably let the child watch cartoons or educational videos while she completes her tasks.
However, it is not always easy to monitor what the children are looking at online. Teens have the intelligence and know-how to access many different online sites.
This is why the Cocospy Keylogger app is a wonderful tool, as it will give vital information on what kind of online content the kids are looking at. Partner this with the Cocospy Mobile tracker free, and you will always know where the kids are, all the time.
Cocospy allows you to covertly monitor activities on smart devices including calls, SMS and online content.  With Cocospy, you do not need to jailbreak or root your phone, and it is very easy to install and use.
Cocospy has received endorsements from Forbes, TechRadar, Tom's guide, Top 10 reviews, CNET among others; a testament to how good it is.
What should your kids not be doing online?
Chatting strangers
Kids and are naive and have no filter when it comes to the kind of people they talk to. There are so many predators online, and you need to keep a pulse on who the kids are interacting with.
Sharing personal information
Emphasize to the kids that they should never share any personal information online. Such information includes where they live or where they go to school.  Online Predators look for quick access, and they know the right questions to ask so that the kids end up revealing too much about themselves.
As a parent, if the kids have a social media presence, it is up to you to teach them how to keep their information private, so that anyone who is not in their close list of friends does not have access to it.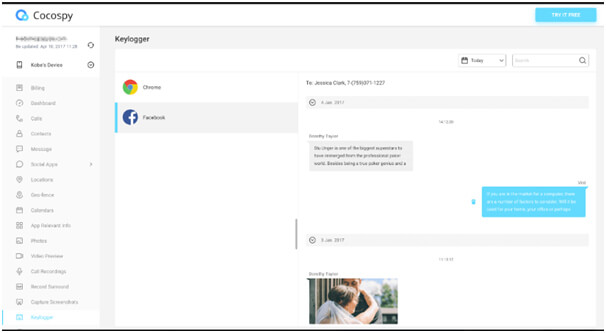 Downloading apps
Keep a close watch on the kind of apps the children are downloading onto their smart devices. Some of them are not appropriate, while others will make you pay for services you do not need. Have a strict rule that before they download anything, they have your permission.
Accessing inappropriate content
There are many sites with content that the children should not be accessing. These include pornographic sites and betting sites. Having parental control features will allow you to limit the content they can access.
Cyberbullying and stalking
We may not want to believe this about our children, but sometimes you will find that your child may be bullying or stalking somebody else.  The other scenario is that they could be victims themselves.  With close monitoring of the smart devices, you will be able to arrest such behavior before it escalates.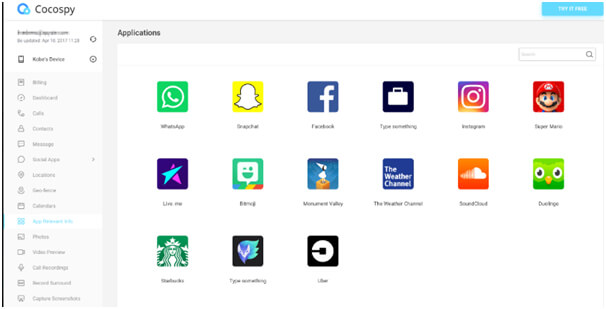 Why you need the Cocospy Keylogger app
The Cocospy Keylogger app will give you access to social media networks and passwords. It is easy to install, and you can see the entire key the strokes that happen on the target phone.
Other key features include GPS location, tracking of pictures and images, tracking incoming and outgoing calls; including contact details, geo-fencing alerts, keystroke monitoring, text message monitoring, Snapchat monitoring and browser history monitoring.
The installation process is very easy; sign up with Cocospy, install the Cocospy Android Keylogger app, and start the monitoring process.
The use of the Cocospy Android Keylogger goes beyond parental monitoring, as an employer you can use it to monitor what employees do with the company phones. In the era of corporate espionage, you can never be too careful; use the app to catch any employee who may be engaging in unethical practices.
Final thoughts
The Cocospy Android Keylogger will give you peace of mind because you will no longer have to worry about what your kids and employees are doing on their phones. Asking for passwords will also be a thing of the past because the app will be able to access the relevant information for you even on the phone with a password.